Our class debates sure started out strong! The question is…Does technology in the classroom enhance learning?
My first reaction was: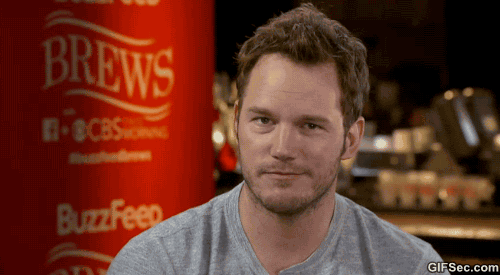 But after listening to both sides of the agreement I was more like:
I decided it may be beneficial for me to do a bit of a 'classroom inventory' to explore a) the technology I have in my class, and b) the ways that I use that technology, to see if it really does enhance learning in my own classroom.
What I found was this: the typical SMART board at the front of the room that I know I don't use to the best of my ability, at a small table near the back of my class I've got a listening center set up with a CD player (yes those still exist) and 3 iPads. Our school also has 2 laptop carts, each with a class set of laptops. However, being a Prek-12 school with over 500 students and specific high school tech classes, my own class' use is limited to once per week at most. I've also got my iPhone, too, which I admittedly use for school use such as Seesaw, Twitter, or email. Even though our division has cautioned us of the potential risks of using our personal devices for school use I still cannot get out of the habit just yet. That brings me to Seesaw.
This is the third year now that I have used Seesaw in my classroom as a digital portfolio of my students' work. Even though I may not use it to its fullest potential, I strongly believe that it has enhanced school/home communication. Has it directly enhanced my students' learning? Well. I don't know. I will have to explore this further in another post.
When I do have access to the school laptop cart, it is typically a chance for my students to do research for their Genius Hour projects, to type up a piece of published writing they are proud of, or to put together a presentation (I taught them how to use Google slides this year and they love it!) My students even make slideshows for me when I am away sick and they miss me. As a grade 4 teacher of 100% EAL students, I just love the fact that they are playing around with language and writing! Plus, it's adorable:
I swear I don't pay them to say such kind things!
Getting back to the debate…I do understand and agree with some of what "Team disagree" was saying. The cons do add up: cost, limited resources, students spending more time on creating a powerpoint presentation rather than the assignment and research itself, and student distraction. I suppose I don't understand the full extent of the student distraction seeing as my students don't bring their personal devices to school, and have never tried. I am sure it will become more common in the future, but for now I haven't had those issues (if one would consider it an issue??)
Team disagree mentioned a study that was done in the U.K. where student cell phones were banned and test scores went up. I would argue that test scores aren't all I care about as a teacher. I would argue that growth can and is being seen with the use of technology, but as it was pointed out many times during "Team agree's" argument, the teachers themselves play a tremendous role in whether the technology is used in a meaningful and authentic way to enhance learning.
Team agree brought in some very informative information such as the SAMR model which is something I had never seen before. As they argued, the goal should be to integrate modification and redefinition tasks with the use of technology to not only enhance learning but transform it. This was a pretty enlightening moment for me, as someone who has always been fairly comfortable with technology use, but realizing that I am not using it to its full potential in my classroom.
I do believe it is our job as educators to help teach our students about digital citizenship. So much of their lives are based in technology. Is that good? Well, that's another debate for another time. I do know one thing; it's not going away anytime soon. So shouldn't we make the most of it and use what our students know to engage them?
Although I think both teams did an excellent job of bringing this debate alive, it is plain and simple that I agree that technology enhances learning in our classrooms.